WESTERN AUSTRALIAN PREMIUM ARTISAN HONEY AND BEES
Our bees and honey come from the pristine forests around the region of Perth in Western Australia. 
We have carefully bred our bees for their high performance, disease tolerance, and non-aggressive nature, and let them do what bees do best!
By shifting our bees to different locations within Western Australia our bees collect nectar and pollen from beautiful flowers all year round. Many of the flowers they seek are from eucalyptus trees and it seems their nectar turns into some of the most tasty and powerful honey in the world. We let the bees decide what they want to harvest, and it seems they always choose the best!
The beneficial properties of WA honey are possibly unmatched, due to the power of our eucalyptus trees as well as the health and purity of our ecosystem! Testing our honey for beneficial properties has shown that all our honey is strong in antimicrobial activity, also known as TOTAL ACTIVITY (TA). All our honey is pure and raw, and unpolluted by chemicals and toxins. Our honey shows a significant level of total activity, up to levels of 35 and more, and thus is potent in antibacterial and antifungal properties. Plus it tastes amazing! And our bees make a friendly and beneficial addition to any backyard!
A small business with an eye for detail
SMALL FAMILY BUSINESS

We are a small family company that is excited to share our amazing bees and honey with the world! We feel the qualities and powers of bees and honey are seriously underrated, and we are passionate about education to raise recognition and appreciation of these miracle workers. We proudly stand behind the quality and safety of our products.

FULLY CERTIFIED

If we say that there is antimicrobial total activity in our honey, we know it not by guessing but through laboratory testing and reports. The TA+ value we show on our labels means that it is the minimum activity of the honey; the "+ "means that the value is most likely more than that.

PREMIUM QUALITY

All of our honey is pure and raw. The frames are lifted out of the hives, the honey is extracted from the honeycomb in each frame, and it is packed into your jars. It is as natural and simple as that!

When honey is raw it can become candied, particularly if it is cold. If this happens we may heat it to more easily pour it into your jars. We never heat it over 40 degrees Celsius, which ensures it remains in its purest raw form. We want to keep the goodies in the honey!
Give a gift of luxury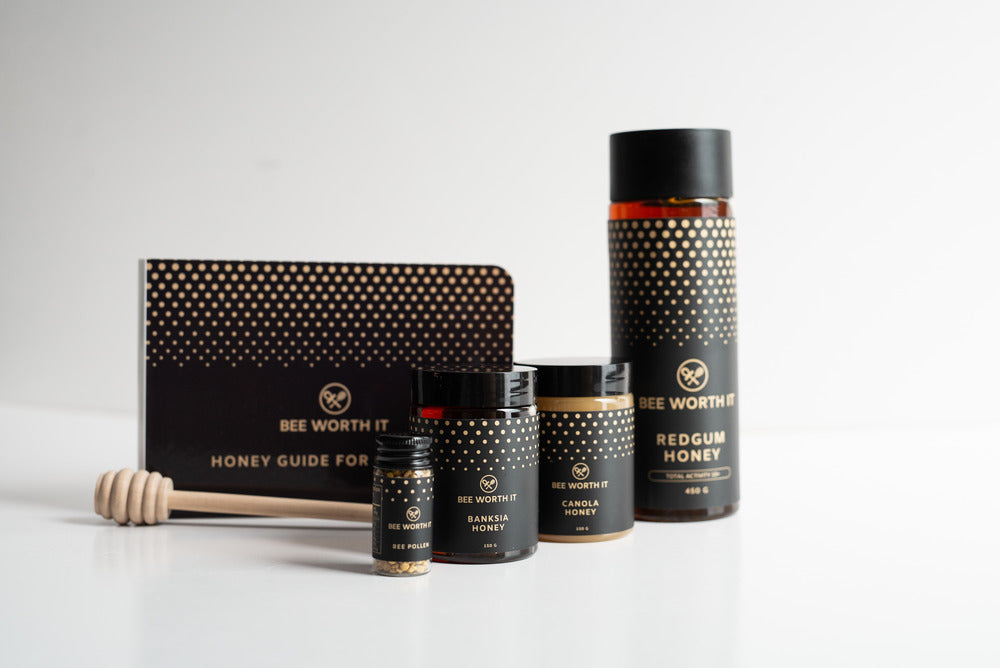 Testimonials
Mitchell Brothers - Property Sales Team (Perth)

The box sets are such legendary gifts and people really appreciate them. And the honey is so delicious!

Client: The honey gift box is AMAZING. Love the quality and colour of the package too.

Vera Stanley

Your honey is simply the best - the taste is wonderful. All my family just can't get enough of your perfect tasting honey. Thank you and keep it coming!

Sylvain Haass

I got our first Nuc from Gordon in November. They made it simple and easy to pay and pick up my new bees. The bees were super friendly and extremely active. I did my first harvest the following March and got 25kg of thick golden honey from them. Am so impressed by them... both the bees and Beeworthit, looking forward to my next few Nucs.
Featured products
Regular price

$24.00 USD

Sale price

$17.00 USD

Unit price

per

Regular price

Sale price

$10.00 USD

Unit price

per
Who are we?
We are a young start-up company based in Western Australia. Originally from Switzerland we have migrated to the beautiful and pristine surroundings of Perth where we wanted to work together with the beautiful environment available to create wonderful and high quality products.